Junior Development Pathway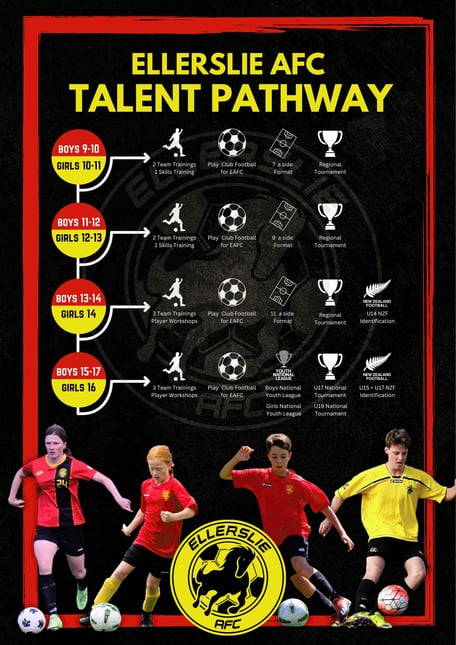 The Club will continue to provide opportunities for players to further develop their footballing ability and will move towards meeting the training requirements stipulated by Northern Region Football for its teams to qualify to play in the highest youth grades.
The Junior Development Pathway will be for players that are selected in the Red teams for Under 9 - 12 grades for both boys and girls along with selected players from the Black teams.
This course will involve one extra training session per week that will be additional to team training sessions.
The course will operate in Terms 2, 3 and 4 throughout the year.
In Term 1 the Club will run a Pre-season module for selected players and in Term 4 the module will be accessible for NRF team players. The Club recognises that some players will have commitments to other sports during Terms 1 and 4 therefore the programmes during these Terms are optional and are charged separately.
During Terms 2 and 3 the Club expects players from the Red Teams to attend PDP and as such the cost of the programme during Terms 2 and 3 is incorporated in the Talent Development Fee (see below). Selected players from the Black Teams will be invited to join the programme for these Terms and will be charged accordingly if they accept the invitation.
The programme will be delivered by the club's paid coaching staff and overseen by the club's Director of Football, Fred de Jong, the Director of Coaching, Ryan Shiffman, and our Football Development Manager, Ben Fletcher.
Junior Talent Fee
Players in the Club's Red Teams, the highest teams in each of the Junior grades will be charged a one-off Talent Fee at the commencement of each season.
The Talent Fee covers a number of items that either provide benefits for players in the Red teams or incur additional cost for the club. These include:
A paid experienced coach for the season
Player Development Programme sessions offered for Terms 2 and 3
Additional training sessions (i.e. all Red Teams train a minimum of twice a week)
Access to the turf for training
Club Jackets, Ellerslie branded shorts and playing shirt (subject to correct size availability)
Increased player levies and competition fees by Northern Region Football for some competitions
The Junior Talent Fee for 2023 will be as follows:
Grades (U9 – U12 Boys) - $150.00
Grades (U10 - U13 Girls) - $150.00
For any Enquiries please contact fdm@ellersliefootball.org.nz